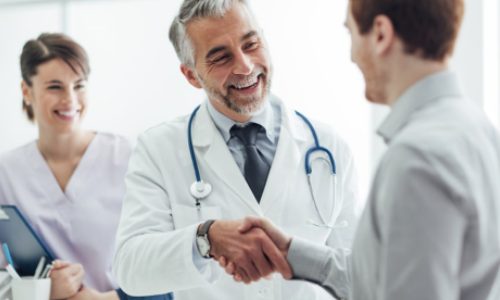 A Small Company's Solution to A Big Problem
Tinsley Surgical, PA provides care for patients who need vein, vascular and general surgical needs in Wilmington, North Carolina. A growing surgical practice, Tinsley Surgical was not immune to the massive healthcare staffing shortage documented worldwide. But with a basic philosophy of "finding a way to yes," they solved their healthcare staffing shortage by finding college students or college graduates who needed pre professional clinical hours for graduate school.
"We had a vibrant mentoring program, but we had trouble finding day to day staff, especially at the medical assistant and clinical staff level. So, we morphed the two into one program which we call the Pre-Professional Program (PPP)," said Ellis A. Tinsley, Jr., MD, and CEO. By providing flexible work schedules, living wages, and on-site teaching, Tinsley Surgical created a fast paced, on the job, learning environment while enhancing the patient experience and promoting great students to the next level in their healthcare careers. We labeled the position patient advocate (PA) in order to differentiate from medical assistant (MA). This is to be differentiated from physician assistants, previously referred to PAs, who are transitioning to the use of the phrase Advanced Practice Provider (APP).
"We found really smart, motivated college graduates and introduced them to patient centered healthcare," Mary Floyd, RN, MSN, BWS, DNPS, and COO. "It was a win for our patients, a win for our employees, and a win for our company."
Positive Patient Advocate Patient Impact
Patient benefit was immediate in that the PAs were energetic, flexible, and motivated to interact with our patients. They quickly adapted to the electronic heath record software and reduced the pre appointment chart preparation time and accuracy as well as the day of service rooming of patients. Patients began to notice faster response times to questions and needs.
The PAs were hungry to learn about the patient condition and rapidly began to own the patient's care by recognizing patterns of normal and abnormal. They were challenged to learn how to interview patients with empathy while focusing on the physiologic and diagnostic aspects of patient centered care. "The staff is bright and energetic and focused on my needs," said one patient.
Positive Patient Advocate Personal Impact
At the initial interview, the PAs ultimate goal was identified and coordinated with internal mentors, existing senior employees, who could teach and advocate for the employee's success. One PA was recruited in Nursing, Advanced Practice Provider (PA or NP), and Medicine. PAs were trained over one month and underwent monthly didactic sessions related to the disease processes they were working with. They worked between 32 and 40 hours per week with flexibility for needed educational requirements. Several of them noted the transition from college schedules to full time work as the most challenging transition.
The PAs worked tasks similar to a medical assistant but quickly advanced into patient communication, supervised wound care, surgical assisting, and venous access as they demonstrated competency. They were allowed to observe office procedures as well as outpatient surgical procedures. Daily discussions were held about service and servant leadership, communication in the healthcare setting, and individualized healing scenarios as part of patient centered care.
PAs had direct access to practicing RNs, APPs, and physicians. Letters of support and advocacy phone calls were made to graduate schools on behalf of each PA as they applied for graduate schools.
"My year literally changed my life and showed me what real patient centered healthcare looked like," said Blake Glenn, APP PPP, who will attend Duke University Physician Assistant Program.
The PPPs were personally successful in their first year. The nursing PPP was accepted to the nursing program at Cape Fear Community College. The APP PPP was accepted to several PA schools and will attend Duke University Physician Assistant Program. The medical PPP was accepted to several medical school and will attend the University of North Carolina Chapel Hill School of Medicine.
Positive Patient Advocate Company Impact
The creation of the Pre-Professional Program at Tinsley Surgical had 3 main positive contributions. First, the clinical staff was stabilized at a higher level of execution by utilizing PAs with a higher educational background. Second, the efficiency of the patient intake and rooming process was improved to the point where capacity for patient visits was increased. Finally, the corporate culture was enhanced with youth, energy, and intelligence.
"You have the smartest staff I have ever seen in a doctor's office," said one candidate for operations manager during his interview process. "The culture makes you want to work here. No wonder the patients like their care."
Challenges and Plans for the Future
The three greatest challenges identified in the PPP were scheduling, time for didactics, and consistency. Scheduling was approached with flexibility putting patient experience first in the context of the PPP educational schedule and needs. In the future, this will be addressed by layering the paid positions with unpaid internships with shorter, more flexible time commitments.
Time for didactics is a work in progress but has started by creating educational topics included in monthly staff meetings. Dinner meetings have also been popular with the staff and includes brief presentation of topics, question and answer, and fellowship over food.
Consistency begins with the interview of a new PPP candidate and their personal educational or life plan. Most clinical hour requirements by healthcare graduate programs require 6-12 months of work and this is considered for hiring and schedule planning. Most graduate level institutions are looking for this type of adjunct to traditional education and understand the requirement for acceptance and therefore are very receptive to sending applicants when needed. The current PAs are actively engaged in finding their replacements.
In the future, we plan to expand the program to paid and unpaid positions based on the needs of the applicants. Many applicants are already happily employed but want to explore healthcare as a career option. In addition, we plan to expand the reach of the PPP to the business of healthcare in the areas of marketing, insurance, and finance, for PPP applicants interested in a post graduate degree in healthcare administration or master's in business administration. Finally, we hope to create standing relationships with educational programs who identify candidates that need the hours.
By combining an active and ongoing mentorship program with hourly wages and benefits, we were able to resolve our clinical staffing challenge at the medical assistant and clinical level. The patient advocate solution enhanced the experience of our patients, our pre-professional student employees, and our company overall. There is a requirement for understanding the reality of healthcare human resources, flexible scheduling, the temporary nature of the cycle, and a desire to teach, mentor and advocate for the future practitioners of healthcare.
For more information or to apply, send cover email and resume to mary@159.65.224.204